Press Release Writing
Reliance Network
Reliance Network Expands to Coincide with Release of Mobile-Responsive Real Estate Websites with Search3 and CRM3
Hires Experienced Real Estate Software Sales Executive
LAKE OSWEGO, OR, September 20, 2016 – Reliance Network, a software developer that builds and integrates business technology for the real estate industry, has hired Gwyneth Iredale to join their team of real estate technology experts.
"It's an exciting time for Reliance Network and I am honored to represent this forward-thinking software developer. The company continually innovates technology that allows clients to connect more easily and effectively with home buyers and sellers, especially millennials," explains Ms. Iredale. "I am surrounded by a talented team that's well versed in the intersection of technology, real estate and home owners' expectations."
Ms. Iredale, Business Development and Client Relations Manager, brings 25 years experience in software, of which eight years were specific to real estate, with a foundation in account management, branding and marketing in New York City and San Francisco.
Most recently, Ms. Iredale was an Account Manager for enterprise software products at Symantec and Veritas, selling to IT directors and C-level executives. "Being able to speak on the same level as IT directors and CTOs at top real estate companies will allow me to better communicate the business value we bring with our software-as-a-service platform. I draw from my experience in real estate marketing software an understanding of our customers and their need for a robust solution that handles multiple database feeds and constant data manipulation with incredible attention to detail."
Sean McRae, Co-Founder and President of Reliance Network, comments, "Gwyneth brings a fresh perspective and focus on marketing and business development, and expands account management services as we grow our client base. This supports our mission to continually evolve, staying agile for tomorrow's fast changing demands, and to outpace and outperform the competition, reflecting the priorities and real needs of our clients. Gwyneth will help give us visibility and acquire new clients while maintaining Reliance Network's commitment to outstanding service."
The company has relaunched a suite of responsive website marketing solutions and tools designed for and used by top real estate brokerages, sales professionals and their clients. Mr. McRae adds, "The updates to the BrokerCloud platform include 'Search3' for a responsive home search experience on any device; 'CRM3', our cloud-based client relationship management system integrated with lead management; prospecting automation; and more, making this the industry's most comprehensive solution."
(About the Company – removed – not my writing)
###
LinkedIn ProfileGwyneth Iredale – photo
---
Volunteer Press Release Writing for Non-Profits
USA Dance Eugene/Springfield Chapter
Eugene/Springfield Celebrates its Growing Dance Community
With National Ballroom Dance Week™ – Sept. 21-30, 2018
Aug. 28, 2018 – Eugene, OR – The Honorable Mayor Lucy Vinis has proclaimed the week of September 21st – 30th, 2018, National Ballroom Dance Week™. The Eugene/Springfield chapter of USA Dance and other dance organizations are hosting a series of dances during this annual event. Dance events hosted by the Eugene/Springfield USA Dance Chapter are listed below and on this page.
9/23, 5:30 – 7:30 – Tea Dance held Upstairs at the Vet's, 1626 Willamette St., Eugene
9/28, 7:00 – 9:30 – National Ballroom Dance Week™ Signature Event, held at the University of Oregon with the Oregon Ballroom Dance Club, at Gerlinger Hall on campus, across from the EMU
9/30, 5:30 – 7:30 – National Ballroom Dance Week™ Closing Dance held Upstairs at the Vet's, 1626 Willamette St., Eugene
Increasing Popularity of Ballroom Dancing
The TV shows "Dancing with the Stars" and "So You Think You Can Dance"' have sparked interest in learning to dance among many age groups. "The increased awareness has also awakened a renewed interest from the Boomer age group," comments USA Ballroom Eugene/Springfield Chapter President Pat Ryan. "Our bi-weekly dances are a great place to meet new people, try ballroom dancing for the first time or hone your dance steps with lessons taught by nationally ranked professionals. The goal is for more people to be introduced to and experience the fun, sociability, rhythms, wholesomeness, and enjoyment of ballroom dancing." Ryan also noted, "There are several charming stories of couples meeting and falling in love on the dance floor."
Ballroom dances include Fox Trot, Waltz, Rumba, Night Club Two Step, West and East Coast Swing, Salsa, Cha Cha, Merengue, Bachata, the Hustle and more and can be quiet aerobic and a stress reliever.
There are many physical and mental benefits of dancing. An NPR article, Ballroom Dancers Waltz to Healthier Hearts, by Allison Aubrey reports that "Italian researchers have found that just 21 minutes of dancing, three times a week, can match the cardiovascular benefits from working out on a treadmill or bicycle."
About USA Dance, Inc
Eugene USA Dance Chapter of USA Dance, Inc., a non- profit organization, promotes and sponsors ballroom dancing for all ages and abilities, and has more than 150 chapters across the country.
###
Submitted by: Gwyneth Iredale
USA Dance Eugene Springfield Oregon Chapter 1010
Contact: Patricia Ryan – pcpatricialee@gmail.com
---
Pacific International Choral Festivals
picfest Presents Gala Concert In the Heart of the World
Youth Choirs Sharing the Healing Power of Song
Eugene, OR – June 21, 2018 – picfest (Pacific International Choral Festivals), one of the most acclaimed youth choir festivals in the country, celebrates the culminating event of a life-changing week with a Gala Concert in Eugene, Oregon. The performance features youth choirs from Oregon, California, Nevada, Colorado, and Australia, unified under the direction of renowned UK composer and conductor, Bob Chilcott.
Sunday, July 1, 7:30 PM
First Baptist Church, Main Auditorium
3550 Fox Meadow Road, Eugene
The greater Eugene community will have the chance to witness the transformational impact of the festival on its participants – the afterglow of the week of hard work, joyful discovery and community building – when 150 voices from choirs around the country and across the ocean combine in the Youth Choral Festival Gala Concert, In the Heart of the World.
The signature piece and namesake was composed by guest conductor Bob Chilcott. Also included will be several other Chilcott favorites, a mesmerizing set of Australian pieces, and works by Paulus, Unterseher and the always inspiring finale, Hope for Resolution.
First and Only Surround Sound Microphone Under $100 for Video Cameras
In the Heart of the World celebrates the essential good of humanity expressed in the healing power of song. Its rare power and beauty is a tribute to the victims of life's darkest moments and a testament to the resilience of the human spirit to find a way forward.
Distinguished Guest Conductor
Bob Chilcott has been hailed "A contemporary hero of British choral music" by The Observer. Known throughout the world for his captivating compositions and charismatic conducting, Chilcott inspires artistry in everyone who has the pleasure of working with him.
He returns to picfest for the seventh time and will work closely with the young singers towards their final concert performance. "A collaborative spirit is at the heart of what makes this experience so alive with possibilities," he comments.
About the Festival
Each summer picfest presents week-long gatherings of young choirs from across North America. In cooperation with the world-renowned Oregon Bach Festival, these six-day events are filled with concerts, workshops and Festival Chorus rehearsals led by celebrated guest conductors, all designed to help singers discover their voice.
Co-Founder and Artistic Director Peter Robb observes, "The festival is an inspirational, enriching, heart-opening journey with many astonishing moments experienced along the way. The enjoyment and mutual admiration of each other's singing creates an environment in which life-affirming personal and artistic growth is the norm.
The gathering's intentionally noncompetitive emphasis results in the highest level of musical artistry, extraordinary collaboration and new friendships which carry on long after the choirs leave Eugene.
The combined, final performance and entire festival experience becomes a benchmark, a compass to guide in their developmental journey. They begin to see the connection between the expressive power of singing and the discovery of communicating from their hearts."
"picfest has established a standard of excellence in every aspect of festival performance. While aspiring to high artistic standards, it's clear their philosophy uplifts the individual experience of the singer and their choirs"
Dr. Sandra Snow, leading figure in American collegiate choral music
picfest History
Inspired by the Oregon Bach Festival and encouraged by OBF Founder and director emeritus Royce Saltzman, Pacific International Choral Festivals made its debut in June 1998. Co-founders, Peter Robb, his wife Genevieve Robb and sister Rebecca Robb Hicks have managed the festival throughout its 21 years. During this time there have been 25 festivals, with over 170 choirs from four continents, and a total of over 6400 participants who come together for the unforgettable picfest experience.
"picfest is a treasure among youth choral festivals with its wonderfully non-competitive atmosphere, its rich collaboration with the renowned Oregon Bach Festival, and the way it puts young singers and their experience first."
Henry Leck, conductor, educator and leader in the international youth choral world
###
Media Resources:
---
Articles
Being a "Go-Giver"
July 03, 2007
I was reading my issue of Broker Agent News today and latched onto the phrase "Go-Giver" in an article, The Key to Influencing Others, by Brian Tracy. It is about being a giver, creating lasting business relationships, in order to be a successful salesperson. Here are the salient points:

– Do Nice Things For Others
– See Them As Friends and Partners
– Send Thank You Notes
– Be A Go-Giver Rather Than A Go-Getter
– Be Open and Empathetic
– Really Listen to Others
This reminded me of the book, Love is the Killer App, How to Win Business and Influence Friends, written by Tim Sanders, who was Yahoo!'s Leadership Coach and prior to that, Chief Solutions Officer. I heard Tim speak at the Churchill Club during the Dot Com heyday and fully subscribe to the approach that if you share your knowledge and give of yourself, you will find professional success.
Now, more than ever, this approach can create the kind of trust needed when a home buyer or seller, in many cases, embarks on the biggest transaction of their life. How do you "give?" Here's what Tim Sanders suggests:
"It starts with amassing as much usable knowledge as possible…"
So, if you stay on top of mortgage rates, community news, real estate investment advice, local environmental issues, etc. and send clips relevant to your prospects — just a quick note will do, such as "Saw this and thought of you" — you will begin to cultivate trust and friendship.
Tim's approach "…follows with an emphasis on networking to the extreme." You probably already network with local politicians and business leaders, get involved with charity events and find other ways to become a prominent  thought leader and give to your community.
"Sanders offers concrete suggestions, from compiling a super list of contacts to ensuring all are regularly stored in an always-accessible format. And he concludes by advocating a true mindset of compassion, which he says involves sharing this knowledge with those contacts and ultimately helping anyone who in one way or another may ultimately help you."
We are all "solutions salespeople." My job at Real Pro Systems is to help real estate and mortgage agents improve their online marketing and be more successful in business. An agent's job is to help a buyer or seller navigate a huge, emotion-ridden event with a smooth transaction, bringing the best financial outcome for their client. A home is more than just a transaction – it is the warm, safe environment wrapped around families and truly and one of the most important aspects of their daily lives. How wonderful to be a part of the solution.
Cascade Audio
For Immediate Release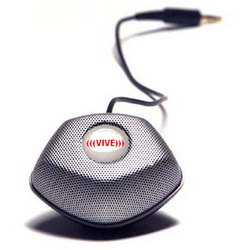 The Vive surround sound microphone, an after-market accessory mic for video cameras/camcorders, is now available at B & H Photo. Produced by Cascade Audio, Inc., it's the first and only true surround microphone for under $100. Consumers can now take full advantage of their surround speakers for their home movies, with a lifelike, multi-channel listening experience.
The surround microphone market is receiving heightened awareness due in part to surround-enabled video cameras from Sony and Panasonic released in 2007
EUGENE, OR (PRWEB) APRIL 1, 2008
Cascade Audio, Inc., an Oregon-based surround microphone technology company, announced today the availability of the new and improved "Vive" – a unique, patented surround microphone which produces Dolby Pro Logic® and Dolby Digital 5.1®* compatible surround sound recordings on any stereo video camera with a mic input jack. Sold as an affordable after-market accessory at B & H Photo it mounts easily to video cameras to record in true surround sound in a single step. Consumers can now take full advantage of their surround speakers for their home movies, with a lifelike, multi-channel listening experience. B & H Foto & Electronics Corp. retails the microphone (on this page) for only $99, plus shipping.
"The surround microphone market is receiving heightened awareness due in part to surround-enabled video cameras from Sony and Panasonic released in 2007," says John Iredale, President, Cascade Audio, Inc. "The proliferation of online video, ease of use of video editing software and lower camcorder and home theater prices have spurred interest in improved sound quality over built-in camcorder microphones."
"The VIVE surround microphone is the only surround microphone targeting the consumer market at a price point under $100. Unlike the Sony surround microphone, which works only with specific Sony video cameras, the VIVE works with any video camera/camcorder that has a microphone input jack. Other surround microphone solutions cost over $1500.
"We view this as the next revolution in audio technology. Just as the video recording market moved from mono to stereo, it will make a similar shift from stereo to surround sound. Cascade Audio is the only company that can provide true surround sound with this simple solution for camcorders," said Iredale. "Surround sound is now available in virtually every home receiver sold today. Consumers want to take advantage of their home theater's full capabilities. Videos recorded with Vive will fill the back and center channels with clear, realistic sound, bringing the movie theater experience to their own living room."
"The Vive was previously released under the name 'SSM' and has since undergone improvements in sound quality and mounting options. Reviews from users are incredibly positive. People are amazed that this microphone can produce true surround sound without any additional hardware," comments Gwyneth Iredale, Cascade Audio's Director of Marketing.
Vive has multiple microphone capsules and an innovative and extremely simple design which delivers stereo AND full surround sound. The patented process encodes the signal and records onto any standard media, such as DV, DVD, CD, .wav or mp3 to name a few. No external hardware, additional software or "finalizing" steps are required. Vive mounts easily to any camcorder and connects to the auxiliary microphone jack. It's compatible with all Dolby surround sound-enabled receivers in the marketplace including Dolby Pro Logic® and Dolby Digital 5.1® technology. It delivers high performance audio recording with 20 Hz to 20 KHz frequency response and greater than 60dB signal to noise ratio, appealing to the savviest audiophile. There is an option for recoding a center channel using an additional lapel or handheld microphone.
"There is a huge market opportunity to fill consumer demand," states Gwyneth Iredale. "There are approximately 60 million camcorders in use in the US Market alone, 15 million new camcorders sold each year and 100 million residential surround playback systems worldwide." The Vive price point is comparable to stereo accessory microphones on the market today.
Cascade Audio is the developer of Vive and its underlying technology, which is available for licensing to original equipment manufacturers as a DSP algorithm for an embedded solution in camcorders. The algorithm is portable to current DSP/ASIC's used by portable video recorder manufacturers.
The company holds the rights to U.S. patent number 6,507,659, Microphone Apparatus for Producing Signals for Surround Reproduction.
*Dolby Pro Logic® and Dolby Digital® are registered trademarks of Dolby Laboratories.
Media Contact:
Gwyneth Iredale
---
LinkedIn Article
"Overconfidence Allows Hackers to Steal $172 Billion in 2017"
The interface between human sentiments, perceptions and technology is creating an exploitable gap in their online security. Overconfidence in the software industries' ability to keep our data and identity safe creates an opportunity for hackers to leverage blind spots, a "dangerous disconnect," as the 2017 Norton Cyber Security Insights Report reveals.
The report, released 1/22/2018, is based on data collected in Oct. 2017, and reveals alarming trends, where hackers take advantage of overconfident consumers, mostly due to practicing poor password hygiene.
Interestingly, people are protecting their digital devices, it's human actions that need a change in digital safety. A closer look into consumer perceptions in the Norton report uncovers discrepancies in consumers' perceived knowledge of cybercrime and their "not-so-savvy online behaviors." They protect device front doors, yet leave a back door unlocked, as it were, perhaps by using the same password across multiple accounts, writing down or sharing passwords with others, sharing personal answers to social media questionnaires, and other unsafe techniques.
Financial Impact
Surveyed respondents expressed a greater concern over theft in real life, vs identity theft or cybercrime – again showing a disconnect on the seriousness of identity theft despite the evidence of hackers "stealing $172 billion from 978 million consumers in 20 countries" in 2017.
"In the United States, 143 million consumers were victims of cybercrime – more than half the U.S. adult online population. Losses totaled $19.4 billion and each victim lost an average of nearly 20 hours dealing with the aftermath."
Not unexpectedly, degraded trust is seen predominantly in the government sector, while conversely, trust remains higher in banks and other financial institutions.
If people's behavior is mostly to blame, what about your employee's risk of creating a data breach? What is the damage of eroded trust in your company or organization? The losses to the consumer are reported below, and can create an unrecoverable disdain and resentment, tarnish a company's brand and of course, lose revenues for investors and shareholders.
Who can forget the Equifax data breach, a particularly vexing situation due to the services Equifax provides?
And generally, the statistics are widely published, such as:
…Not to leave out government breaches, we saw the incredibly disturbing recent security breach of power grids in the US (Dragonfly 2.0), and the Ukraine in 2015/16 (Sandworm).
What Can we Do?
More education is needed on data security, password use and easy-to-use software tools to aid the people in creating and remembering myriad passwords. I use LastPass, for example, but also keep an Excel spreadsheet of about 200 passwords, user names, account numbers, and URLs as a back up. But is my laptop safe with just one password access? Where do I back up that file? Encrypt it? Is Google Drive secure?
My strategy of keeping fingers crossed that my laptop doesn't get stolen isn't good enough, despite having been employed in the past by Symantec and well aware of the threats. I am a case in point.
Hope isn't a strategy.
Symantec, parent company to the Norton line of consumer security products, shares more information about the real impact of cybercrime and how consumers can protect their digital information:
2017 Norton Cyber Security Insights Report
"Uncover the discrepancies behind consumers' perceived knowledge of cybercrime and their not-so-savvy online behaviors in the 2017 Norton Cyber Security Insights Report, an annual survey of more than 21,000 consumers globally."
Discover how consumers can unknowingly place their personal information at risk when connecting to public Wi-Fi networks. The 2017 Norton Wi-Fi Risk Report, a global omnibus survey of more than 15,000 consumers in 15 countries, explores consumer perceptions, practices and knowledge about the safety of public Wi-Fi connections.
2017 Symantec Internet Security Threat Report, Vol 22
Learn about the latest threats and security trends covered in the 2017 Symantec Internet Security Threat Report (ISTR), a comprehensive source of Internet threat data that provides an overview and analysis of the year in global Internet threat activity.